Too Much self Control + RO DBT
Radically Open Dialectical Behavior Skills Class in Greensboro, NC
New Cohort Starting in January 2023
Build flexibility and vulnerability
Too much self control affecting your relationships?
Can it be true? Can you really of too much self-control? The short answer is yes. Society views self-control as a virtue. We admire those who delay immediate gratification for long-term goals. It's the source of many peoples' successes. Yet, like all things, you can have too much of a good thing. Self-control is no exception. Learn how to develop skills within the Radically Open Dialectical Behavior Therapy class.
You want specific skills to loosen up, feel safer with uncertainty, to confidently express vulnerability, become more flexible, and strengthen your relationships with others. Join our Radically Open Dialectical Behavior Therapy (RO DBT) class.

Radically Open Dialectical Behavior Therapy (RO DBT) is a form of psychotherapy that is based on Dialectical Behavior Therapy (DBT), which was originally developed to treat individuals with borderline personality disorder. RO DBT was developed by Dr. Thomas R. Lynch as a treatment for individuals with overcontrolled personality styles, which are characterized by a lack of flexibility and openness in thinking and behavior.
RO DBT is designed to help individuals increase their openness to experience and improve their ability to regulate their emotions and behaviors. It focuses on helping people learn new skills to adapt to and cope with stress, regulate their emotions, and improve their relationships with others.
RO DBT typically involves a combination of individual therapy, group skills training, and phone coaching to help individuals learn and practice new skills. It emphasizes the importance of acceptance, validation, and mindfulness, and incorporates elements of Eastern philosophy, such as mindfulness and compassion, into the treatment approach.
RO DBT is typically used to treat a range of conditions, including anxiety, depression, and eating disorders, as well as overcontrolled personality styles. It has been found to be effective in reducing symptoms and improving functioning in people with these conditions. RO DBT research demonstrates effectiveness for the following diagnoses:
Anorexia
Obsessive Compulsive
Personality Disorder
Autism
Treatment Resistant
Anxiety and Depression
Maladaptive Perfectionism
Those with excessive overcontrol report social isolation, loneliness, poor interpersonal skills, and severe and difficult-to-treat mental health problems, such as those listed above.
The first and only book to apply RO-DBT to sex and relationships.

Individuals with disorders of overcontrol are often quietly suffering, even though their suffering may not be apparent.
Our society places a lot of value on people's ability to delay gratification, hide emotions so others "don't see you sweat" by containing emotions and impulses. Since these behaviors are largely viewed as virtues, the problems associated with the overcontrolled coping style have received scant attention. Often therapists misunderstand or can't recognize problems associated with overcontrol.
RO DBT Skills Class focuses on teaching specific skills to individuals within a group context in order to help them overcome obstacles that interfere with interpersonal connectedness. Classes provide instruction on expressing their emotions, improve their relationships, and increase their overall well-being. These skills classes typically involve learning about and practicing a variety of skills, such as mindfulness, emotion regulation, and communication skills. RO DBT Skills Classes are led by Dr. Tom Murray who helps participants learn and practice the skills in a supportive and structured group setting.
Good news! No. It's a class where you learn up to 30 transformative skills to enhance your psychological flexibility, build stronger relationships, overcome obstacles to vulnerability, among others. 
Must I attend all 30 classes?
Also, good news! No. While the RO DBT protocol contains 30 lessons, we've divided the lessons into two 15-week programs. You'll get the best results from acquiring and implementing all 30 lessons.
Each class is $100 with a verbal commitment to attend all 15 classes. Those who've completed the first 15 classes are welcome to return for the second half of the RO DBT program.
The full RO DBT course contains 30 lessons. Each 90-minute class covers one lesson. Below are the skills covered.
The Overcontrol Word Pair Test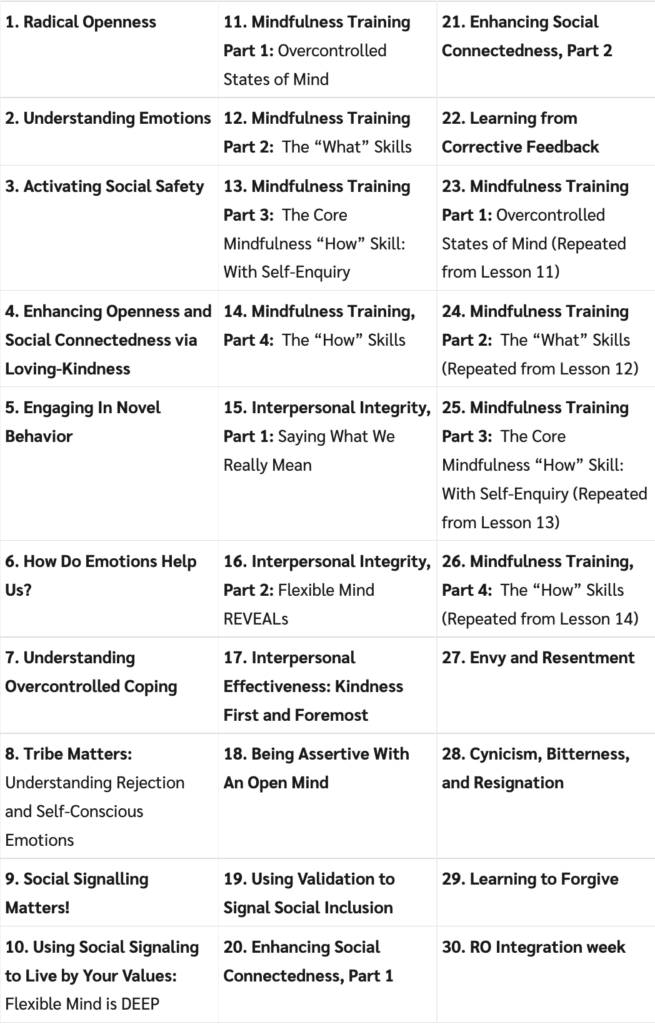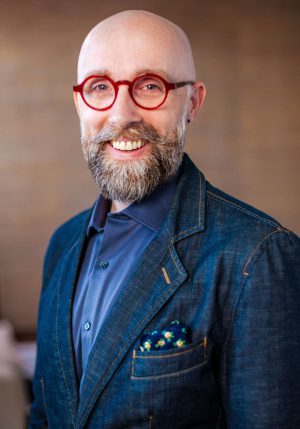 Dr. Tom Murray, owner and director of A Path to Wellness, is an RO DBT Practitioner recognized by The Radically Open Institute. Dr. Murray has been an educator and trainer for over 20 years. 
His 2022 book, Making Nice with Naughty: An intimacy guide for the rule-following, organized, perfectionist, practical, and color-within-the-lines types" applies RO DBT to improving the sexual and intimate lives of those who lean overcontrolled. To purchase the book, click the book cover below.
Dr. Murray looks forward to sharing the powerful lessons of RO DBT to support your journey toward meaningful and fulfilling relationships. Welcome to Class!